InsightArt® — Innovations that make sense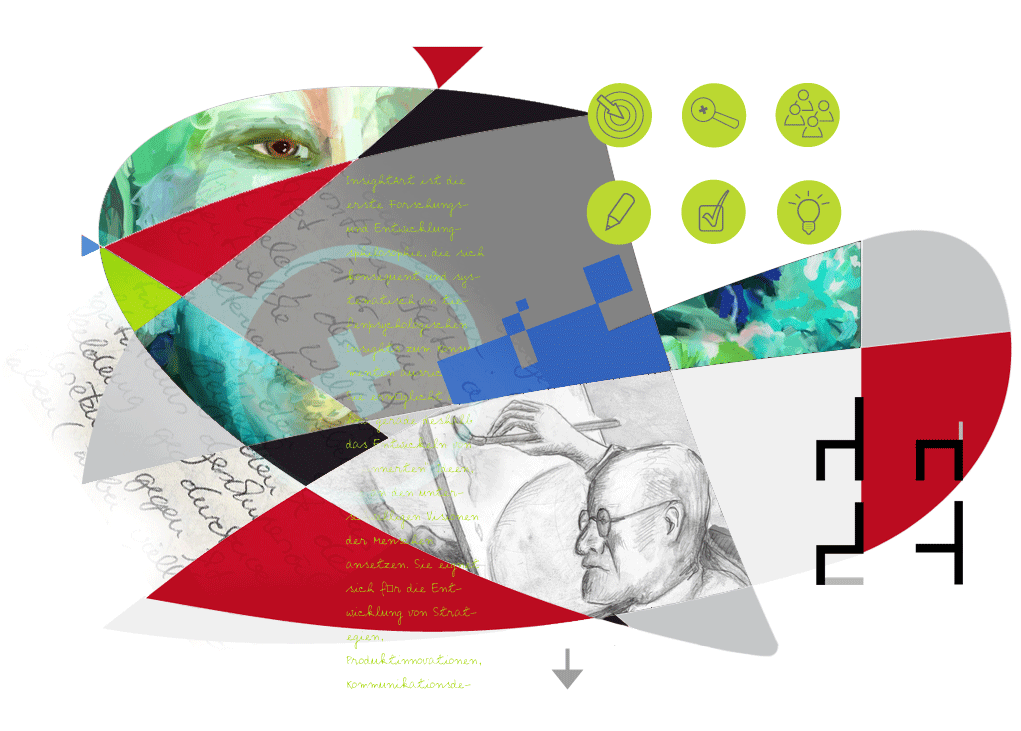 Insight­Art® is an agile, inter­di­sci­pli­nary and stra­te­gic rese­arch and inno­va­tion con­cept we have deve­lo­ped over the last 12 years and under­lies all INNCH Gui­des — it does not sepa­rate psy­cho­lo­gi­cal rese­arch from pro­fes­sio­nal idea, con­cept and design development.
Inno­va­tion-led rese­arch con­sis­t­ently ali­gns with what inno­va­tion needs from rese­arch. Rese­arch-led inno­va­tion spe­ci­fi­cally deve­lops solu­ti­ons for the needs and moti­ves of con­su­mer tar­get groups. Both rese­arch and deve­lo­p­ment are spe­ci­fi­cally geared to the stra­te­gies of the com­pany and the strengths of the team.
As a result, many pro­blems at the usual inter­sec­tions do not arise in the first place. Insights from mar­ket rese­arch are really reflec­ted in the crea­tion. Ideas or com­mu­ni­ca­tion designs are novel and crea­tive, stra­tegy-dri­ven and con­su­mer-ori­en­ted at the same time. Trial & error loops are minimized.
Com­pon­ents of the Insight­Art® pro­cess are, depen­ding on the question:
Psy­cho­lo­gi­cal mar­ket, trend and design research
Pro­mi­sing inno­va­tions serve people's needs, address their hid­den moti­ves, their lon­gings or con­cerns, and offer them emo­tio­nal added value. Pro­mi­sing design 'docks' opti­mally with people's inner visual worlds — their ideas, desi­res or lon­gings. Because only inno­va­tion or com­mu­ni­ca­tion that under­stands people's dreams makes sense.
We track down these 'dreams' through psy­cho­lo­gi­cal and crea­tive rese­arch. Not mar­ket rese­arch in the clas­sic sense, but InsightArt®research, which spe­ci­fi­cally pro­vi­des the pivo­tal point for crea­tion — the psy­cho­lo­gi­cal code — as well as sen­sual inspi­ra­tio­nal material.
Mar­ke­ting and strategy
Pro­mi­sing inno­va­tions and com­mu­ni­ca­tion are part of a well thought-out stra­tegy, they pick up on the strengths of the com­pany and the values of the brand and deve­lop them fur­ther. Inno­va­tions use the poten­tial that exists in the com­pany and the team. Because only inno­va­tion that is backed by the heart and soul of the peo­ple behind it makes sense.
To this end, we con­duct — in addi­tion to detailed brie­fings with mar­ke­ting — writ­ten or face-to-face inter­views with the team, if requi­red, or inves­ti­gate the mar­ket and ana­lyze the core of the brand.
Crea­tion and innovation
Pro­mi­sing inno­va­tions and com­mu­ni­ca­tion emerge when crea­tive and inter­di­sci­pli­nary teams work tog­e­ther over a lon­ger period of time, and when they let go, dis­solve old thought pat­terns and crea­tively des­troy what alre­ady exists. Input and inspi­ra­tion for this is pro­vi­ded by insight from rese­arch as well as ana­ly­sis of the inside view. They are part of the fabric that 'dreams' are made of.
For this pur­pose we deve­lop an indi­vi­dual pro­cess design for InsightArt®teamLabs on- or off­line. A good pro­cess design is one that allows par­ti­ci­pants to unleash their ima­gi­na­tion, that sti­mu­la­tes intui­tive, ana­lo­gi­cal thin­king, and at the same time ensu­res that any ideas and con­cepts deve­lo­ped are alre­ady hea­ding in the right direc­tion. Even wit­hout having to deal with rese­arch results.
In detail: Here you will find an over­view of the spe­ci­fic ➔ tools used in Insight­Art pro­ces­ses. Insight­Art is not a rigid method, but an agile mind­set that is trans­la­ted into an indi­vi­dual pro­cess design depen­ding on the task at hand.
Practical Basics
Many years of crea­tive prac­tice from adver­ti­sing agen­cies, film pro­duc­tion and inter­ac­tive media.
Many years of prac­tice in qua­li­ta­tive-psy­cho­lo­gi­cal rese­arch: basics, trends, adver­ti­sing, pro­duct, etc.
Many years of expe­ri­ence in the imple­men­ta­tion of crea­tive workshops
more…
Artis­tic thin­king and many years of artis­tic activity
Expe­ri­ence in the field of vision deve­lo­p­ment and start-up consulting
Exten­sive prac­ti­cal expe­ri­ence with crea­ti­vity tech­ni­ques (partly self-deve­lo­ped) and crea­ti­vity methods such as TRIZ, Design Thin­king, Crea­tive Pro­blem Sol­ving, etc.
less…
Theoretical basics
Gestalt psy­cho­logy, ana­ly­ti­cal psy­cho­logy, cogni­tive psy­cho­logy, mor­pho­lo­gi­cal psy­cho­logy, neuropsychology
Sen­sory / artis­tic / prac­tice-inte­gra­ting research
Design and inno­va­tion research
more…
TRIZ (Theory of Inven­tive Pro­blem Solving)
Own design psychology
Own rese­arch results on crea­tive thinking
UX / CX design
less…
The basis of our inno­va­tion work­shops is also a psy­cho­lo­gi­cal study we con­duc­ted our­sel­ves on crea­tive pro­ces­ses and crea­tive thin­king. You can down­load the study here as a ➔ PDF free of charge (in Ger­man language).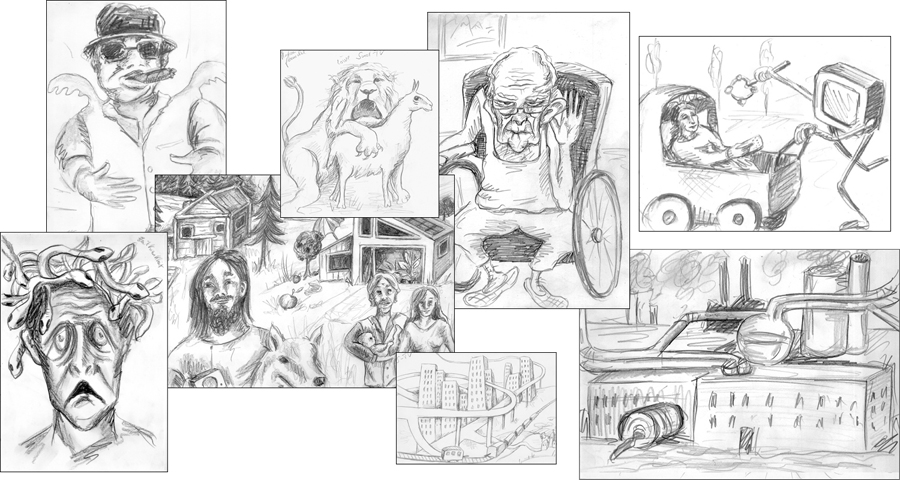 Phan­tom­scribb­ling: Sket­ches crea­ted in dia­lo­gue with con­su­mers (sen­sory rese­arch is part of InsightArt®research)